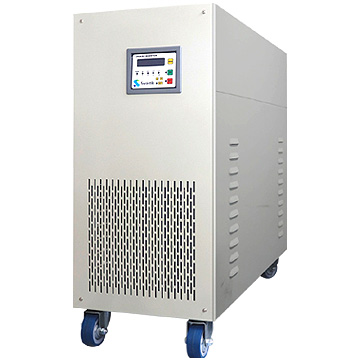 This UPS is very useful for buildings, bungalows, showrooms, industries to run any type of load in case of power outage for long time.
The output of this UPS is regulated pure sine wave three phase voltage using high power IGBT modules.

This inverter can run elevator motor , air conditioners, machines, lights, fans with different currents to each phase (100 % unbalance) With LCD display you can read input, output voltage as well as output and battery charging current.

Programming is provided to select power transfer delay, battery type, battery charging current, inverter on warning.
It has unique software for charging the batteries so there is less maintenance required and the battery life is extended.
Pure Sine Wave Output
High Frequency PWM for Low Noise
100% Unbalanced Load can be connected
Capable of High Peak Current Loads like induction Motors
LCD Display to Read

Input, Output and Battery Voltage
Output and Battery Charging Current
Programmable Selection of

Inverter on Delay
Battery Type: Auto/ Tubular/ SMF
Battery Charging Current: 3-10 Amps

Fan as needed to avoid dust contamination
High Quality Relay and Connectors
Short Circuit Protection for IGBT
Over Temperature Protection
| | |
| --- | --- |
| Model | Unbalance Three Phase Inverters |
| Power - KVA | 8 - 100 KVA |
| Battery Voltage | 144 - 360 V |
| Charging Current | 5 - 10 Amps |
| AC Output Main | Above 160 V, same as input |
| AC Output Inverter | 451 V + , 3 Phase- 4 wire, 50 Htz |
| Display | LCD with LEDs for Mains, Inverter, Overload, Batt-low Charging |
| Protections | Input under voltage, Overload, Short Circuit |
| Battery Type | SMF, Automotive, Tubular |
| Lighting Load | 20% of Capacity |
| Field Programming | Battery Type, Charging current & Transfer delay |