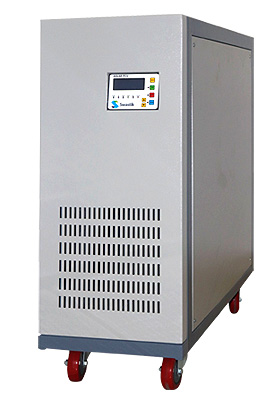 This UPS is very useful for banks, engineering workshops, hospitals, offices. It gives clean, regulated, Isolated power. It can be used for short or long time backups in case of power failure.

The output of this UPS is regulated pure sine wave with low noise using high power IGBT modules. This UPS can run desktop computers, printers, printing machines, CNC machines and elevators.

With LCD display you can read input, output voltage as well as output and battery charging current.
Pure Sine Wave Output
High Frequency PWM for Low Noise
Can run 100% Unbalance load
True Double Conversion
Galvanic Isolation at Output using Transformer
Capable of High Peak Load Currents
Rugged SCR Charger
LCD Display to Read

Input, Output and Battery Voltage
Output and Battery Charging Current

High Quality Connectors
Short Circuit Protection for IGBT
Over Temperature Protection
Manual Bypass Switch as Standard
Type
Three Phase In Three Phase Out Unbalance Online UPS
Model
8 KVA - 100 KVA
Input AC
Voltage range
415 V +/- 5 %
Type
3 Phase 4 Wires
Frequency
48 - 52 Hz
PF
0.8 - 0.9
Battery
Voltage
180 V - 360V
Charging Current
4 - 10 Amps
Type
SMF / Tubular
Boost Cut-off Voltage
13.8 V for SMF Battery / 14.4 V for Tubular Battery
Battery Low trip early warning
10.8 Volts
Battery low trip
10 V
Output
Waveform
Pure Sine wave
THD
3 % for linear load / 5 % for Non linear load
Crest Factor
1:03
Frequency
50 Hz +/- 0.5 Hz
Voltage
230 /240 V AC +/- 2 % phase to neutral / 400/ 415 V AC phase to phase
Load Unbalance
100%
PF
0.8 lagging
Galvanic Isolation
With Isolation Transformer
Inverter
Technology
Center Align HF PWM
Switching Device
IGBT Modules
Galvanic Isolation
With Isolation Transformer
Charger
Technology
6 Pulse Converter
Switching Device
Thyristor Modules
Protections
Input
MCB / MCCB
Output
Electronic trip for overload and short circuit
Battery reverse polarity
Fuse link / HRC fuse
Indications
LCD
Input, Output and Battery Voltage
Output and Battery Charging Current
LEDs
Mains OK, Inverter On, Overload, Charging On
Battery Low, System On
Audio
Batter low trip early warning
Overload trip early warning
Mains fail warning
Bypass Switch
Manual
Electro mechanical
Humidity