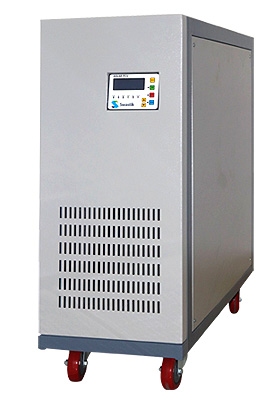 This Solar PCU is very useful for bungalows, petrol pumps, farm house, hospitals, banks, schools and colleges where there is frequent power failures. The Solar energy is used to run lights, fans, computers, air conditioners, coolers, fuel dispensing machines as well as to charge the batteries for storage of power.

Stored power can be used for short or long time backups in case of power failure. With LCD display you can read input/ output/ solar voltage, output/ battery/ solar current and Solar Power.

Programming is provided to select Power source priority, Battery charging event, Battery type, Battery charging current, Grid charging level, Low load shutdown etc.
Pure Sine Wave Output
High Frequency PWM for Low Noise
Can Run 100% Unbalance Load
MPPT Charge Controller
Static Transfer Switch for Transfer of Power
Capable of Delivering High Peak Load Currents
LCD Display to Read

Input, Output, Battery & Solar Voltage
Output, Battery Charging & Solar Current
Solar Power
Programmable Selection of

Power Source Priority
Battery Charging level low
Battery Type: Auto/ Tubular
Low Load Shutdown Enable/ disable
Grid charging Current High/ low
Solar Charging Current: 5-25 Amps

High Quality Connectors
Short Circuit Protection for IGBT
Over Temperature Protection
Type
Three Phase Unbalance Solar PCU
Model
12 KVA - 50 KVA
Input AC
Voltage range
415 V AC +/- 5 %
Type
3 phase 4 wires
Frequency
48 - 52 Hz
Battery
Voltage
120V- 240 V DC
Charging Current
5 & 8 Amps by Grid Power / 5 - 25 Amps by Solar power
Type
Automotive / Tubular
Boost Cut-off Voltage
14 V + offset for Automotive Battery / 14.4 V + offset for Tubular Battery
Battery Low trip early warning
10.8 Volts
Battery low trip
10 V
Output
Waveform
Pure Sine wave
THD
3 % for linear load / 5 % for Non linear load
Crest Factor
1:03
Frequency
50 Hz +/- 0.5 Hz
Voltage
415V AC +/- 2 % 3 phase
PF
0.8 lagging
Load Imbalance
100%
Inverter
Technology
Center Align HF PWM
Switching Device
IGBT Modules
Static Transfer Switch
Device
Back to back connected Thyristors
MPPT Solar Charger
Technology
Buck Converter
Switching Device
IGBT Module
Charging Current
5 - 25 Amps
Solar Panels Required
One panel for Two batteries
Open circuit Voltage
44 - 46 Volts DC
No of Cells
72 per panel
Grid Powered Charger
Technology
Boost Converter
Switching Device
IGBT Module
Inverter on logic
Battery Condition helthy or mains fail
Above 13 V or Till 11.5 V / 11V DC
Protections
Input
MCB
Output
Electronic trip for overload and short circuit
Battery reverse polarity
Fuse link
Solar in polarity reversal
Power Diode in Series
Indications
LCD
Input, Output and Battery Voltage
Output, Battery Charging & Solar Current
Solar Power
LEDs
Mains OK, Inverter On, Overload, Charging On
Battery Low, System On, System On & Off
Audio
Batter low trip early warning
Overload trip early warning
Mains fail warning
Setting
Field Programmable
Input AC window selection
Battery Type selection
Battery Charging Current by Grid Power
Battery Charging Current by Solar Power
Power Source Priority selection
Battery Charging By Grid power level selection
Low load shutdown enable / disable