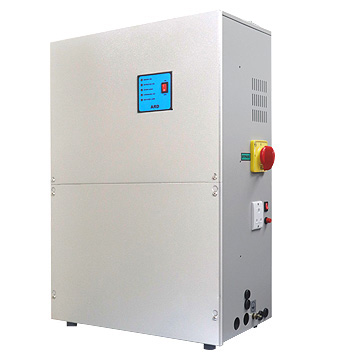 These ARDs are designed to match latest types of VFDs which operate from three phase power supply. With 4 to 10 SMF batteries it can perform rescue operation of a big elevator with 10 to 30 H.P. motor.
IGBT/MOSFET base HF PWM 3 phase balance inverter with individual voltage correction.
Mains fail sensing (any one out of three phases)
Mechanically interlocked contactors for safe transfer of power.
Manual bypass switch.
Low ripple CVCC charger for long battery life using buck converter.
Less than 1 mAmp current in shutdown mode to avoid battery over discharge.
Field programmable delays.
DZ signal for shutdown.
NO, NC contacts for blocking mains between ARD operation.
Auto shutdown if DZ signal is not available.
24V DC output for announceator (Optional).
Vertical cabinet for MRL type controller
LCD/LED display for ease of programming and status.
Short circuit protection.
Battery reverse polarity connection protection.
Heavy duty din-rail mounting connectors.
Model
Three Phase Out ARD
Parameter
2 KVA
2.5 KVA
3 KVA
4 KVA
6 KVA
Input Voltage
415 V, +/- 10% 50 Hz 4 wire System
Output Voltage
415 V, 1 Ph 415 V, 3 Phase + 5%
Waveform
Pure Sine Wave
Output Power
1600 Watt
2000 Watt
2400 Watt
3200 Watt
4800 Watt
Battery Voltage
48 V
48 V
48 V
72 V
96 V
Charging Current
2 Amp +/- 0.2 Amp
Charging Voltage
54 V
54 V
54 V
81 V
108 V
Power Failure signal
Internal Or External Selectable
Inverter On After Power Failure
5 Seconds (can be modified in software)
DZ Input
From Potential Free Contact
Inverter Off After DZ Input
5 Seconds( can be modified in software)
Power Resume During ARD Operation
Will wait till ARD overflow time-out (180 Sec) Or till DZ Input
Extra Output
One NO/NC potential Free Contact
Recommended Battery Size
18 AH Or 26 AH 12 V SMF
Mounting
Floor or Wall Mounting