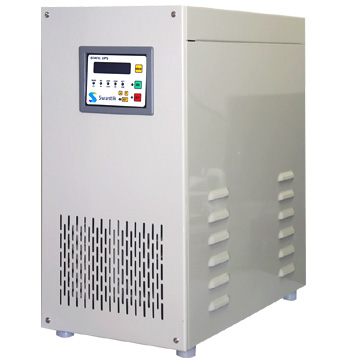 This UPS is very useful for offices, hospitals, cyber cafes, shops etc to run lights, fan and PCs, in case of power outage for long time. The output of this UPS is regulated pure sine wave using high power IGBT modules.

This UPS can run PCs without any interruption as well as few lights, fans, air conditioners, printing machines, cooler, photo copier machines, wheel balancing machines etc.
With LCD display you can read input, output voltage as well as output and battery charging current.

Programming is provided to select AC voltage range, battery type, battery charging current, inverter on warning.
It has unique software for charging the batteries so there is less maintenance required and the battery life is extended.
Pure Sine Wave Output
High Frequency PWM for Low Noise
Static Switch for Synchronous transfer of Power
LCD Display to Read

Input, Output and Battery Voltage
Output and Battery Charging Current

IGBT Modules used
Short Circuit Protection for IGBT
Programmable Selection of

Input AC range
Battery Type: Auto/Tubular/SMF
Battery Charging Current: 3-10 Amps
Power failure Warning: Enable/Disable

Fan as needed to avoid dust contamination
High Quality Relay and Connectors
Over Temperature Protection
Type
IGBT Based Static UPS
Model
5.5KVA - 12 KVA
Input AC
Voltage range
170 V - 270 V AC/ 120 - 290 V AC
Frequency
48 - 52 Hz
Battery
Voltage
72V - 180 V DC
Charging Current
4 - 10 Amps
Type
Automotive / SMF / Tubular
Boost Cut-off Voltage
13.8 V for SMF Battery / 14.0 V for Automotive Battery / 14.4 V for Tubular Battery
Battery Low trip early warning
10.8 Volts
Battery low trip
10 V
Output
Waveform
Pure Sine wave
THD
3 % for linear load / 5 % for Non linear load
Crest Factor
1:03
Frequency
50 Hz +/- 0.5 Hz
Voltage
230 V AC +/- 2%
PF
0.8 lagging
Inverter
Technology
Full Bridge with HF PWM
Switching Device
IGBT Modules
Charger
Technology
Boost Converter
Switching Device
IGBT Modules
Static Transfer Switch
Device
Back to back connected Thyristors
Protections
Input
MCB
Output
Electronic trip for overload and short circuit
Battery reverse polarity
Fuse link
Indications
LCD
Input, Output and Battery Voltage
Output and Battery Charging Current
LEDs
Mains OK, Inverter On, Overload, Charging On
Battery Low, System On
Audio
Batter low trip early warning
Overload trip early warning
Mains fail warning
Setting
Field Programmable
Input AC window selection
Battery Type selection
Battery Charging current selection
Power failure warning enable/disable